Some Hearts by Carrie Underwood Songbook
Some Hearts by Carrie Underwood Sheet Music. Songbook with vocal melody, lyrics, piano accompaniment, chord names, guitar chord diagrams and color photos. 90 pages.
Carrie Underwood is the fourth winner of the hit T.V. show American Idol. At the 2006 Country Music Awards, she also won the Horizon Award and Female Artist of the Year.
Some Hearts, released in 2005, is Carrie Underwood's debut CD. This book provides the lyrics along with piano and chord arrangements for all the songs on the record.
Some Hearts Songbook Song list:
Wasted
Don't Forget to Remember Me
Some Hearts
Jesus, Take the Wheel
The Night Before (Life Goes On)
Lessons Learned
Before He Cheats
Starts with Goodbye
I Just Can't Live a Lie
We're Young and Beautiful
That's Where It Is
Whenever you Remember
I Ain't in Checotah Anymore
Inside Your Heaven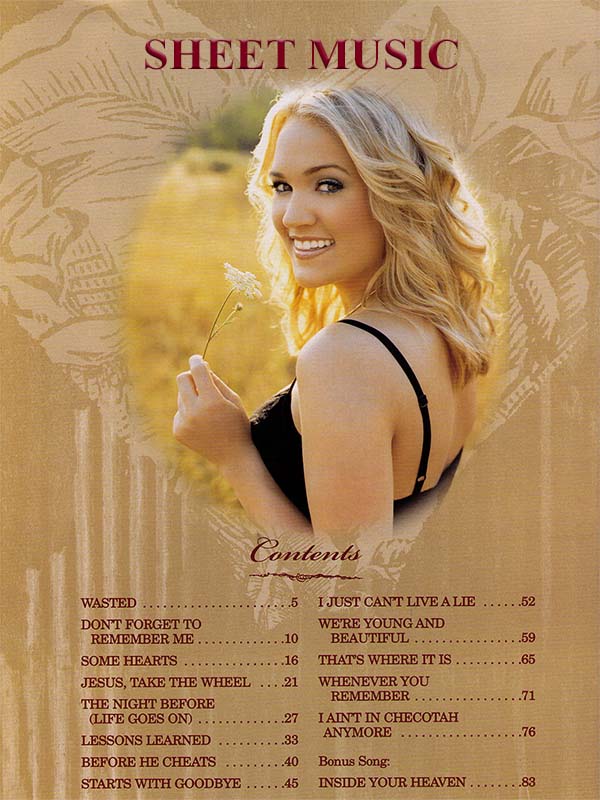 Free download:
Free download Some Hearts by Carrie Underwood Songbook from Sheet Music ME
Buy Carrie Underwood Some Hearts (Piano Vocal Chords) Paperback on Amazon
Download Some Hearts by Carrie Underwood Songbook from SheetMusicPlus (shortlink)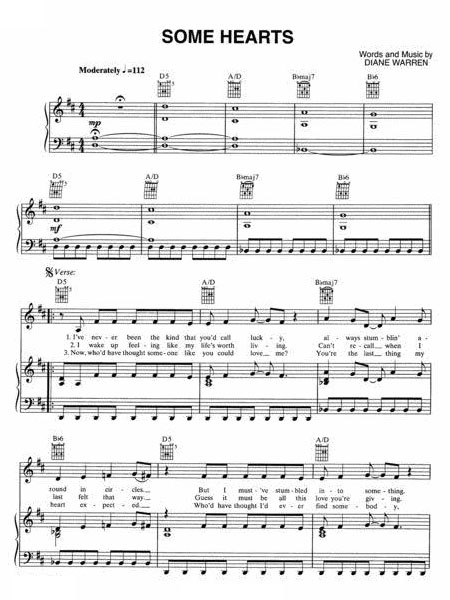 See What Others Are Saying
Every song on here is just great to play, I swear I've never had so much fun playing before! Also, the arrangements are really good! Definitly BUY IT!!!
Good transcription. Some ballads just beautiful on piano alone! A must for Underwood Fans.
Got the CD for most popular songs and fell in love with many songs. This book line by line matches the piano on CD. SO much fun!!!
I really like the songs in the booklet, it is really worth the money as well as the time and effort. Carrie Underwood is great! Overall, the songs are very deep as well as fun. This is one of my favorite albums! Rock on Carrie!
I give this song all my hearts. I love this song! I don't just say this about any song, this song was over the top for me. Unlike so many other American Idols, Carrie actually made a fantastic album. This music i agree with others is somewhat choppy without drums but who cares? Her voice is amazing…
Are you tired of looking for the right songbook?
Do not worry! Perhaps this is what you need!
Carnival Ride by Carrie Underwood Sheet Music Free Download
Songbook with vocal melody, lyrics, piano accompaniment, chord names and guitar chord diagrams. 88 pages. PDF