The Smiths: "The World Won't Listen" Songbook.
Sheet music for piano with lyrics and guitar chords. Includes color photos.
Contents:
Ask
Asleep
Bigmouth Strikes Again
Half a Person
London
Money Changes Everything
Oscillate Wildly
Panic
Rubber Ring
Shakespeare's Sister
Shoplifters of the World Unite
Stretch Out and Wait
That Joke Isn't Funny Anymore
The Boy with the Thorn in His Side
There Is a Light That Never Goes Out
Unloveable
You Just Haven't Earned It Yet, Baby
Free download:
The Smiths "The World Won't Listen" Songbook
https://sheetmusic.me/the-smiths-the-world-wont-listen-songbook
Notice: free download for educational purposes only. Not for commercial use.
For commercial use, buy The Smiths The World Won't Listen Songbook Paperback on Amazon
https://amzn.to/3u328to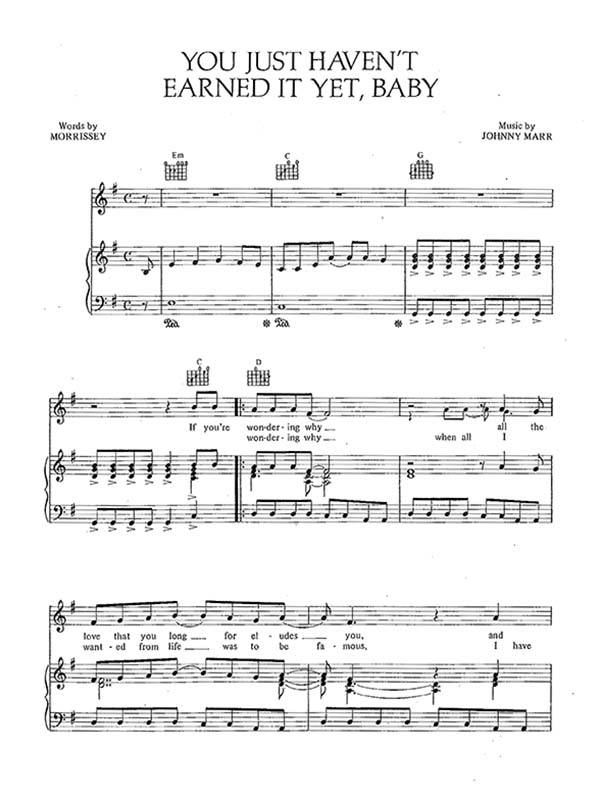 "The World Won't Listen" is a compilation songbook by The Smiths.
The title reflects Morrissey's belief that mainstream radio and record buyers weren't paying attention to the band. The compilation was succeeded three months later by "Louder Than Bombs," released in the US by Rough Trade and featuring a similar, but extended track listing.
All tracks are written by Morrissey/Marr, except "Money Changes Everything" and "Oscillate Wildly" written by Johnny Marr, and "Golden Lights" written by Twinkle.