Lily Allen "It's Not Me, It's You" songbook for piano and vocal with guitar chord.
Sheet music by Lily Allen arranged by Jack Long and Christopher Hussey. Piano, Vocal and Guitar by Jenni Wheeler. Pop & Rock.
Content:
Everyone's At It
Not Fair
The Fear
22
I Could Say
Never Gonna Happen
Back To The Start
Fuck You
Who'd Have Known
Chinese
Him
He Wasn't There
Free download:
Free download for educational purposes only. Not for commercial use.
https://sheetmusic.me/lily-allen-its-not-me-its-you
Download Lily Allen "It's Not Me, It's You" from SheetMusicPlus (short link)
Buy Lily Allen "It's Not Me, It's You" paperback on Amazon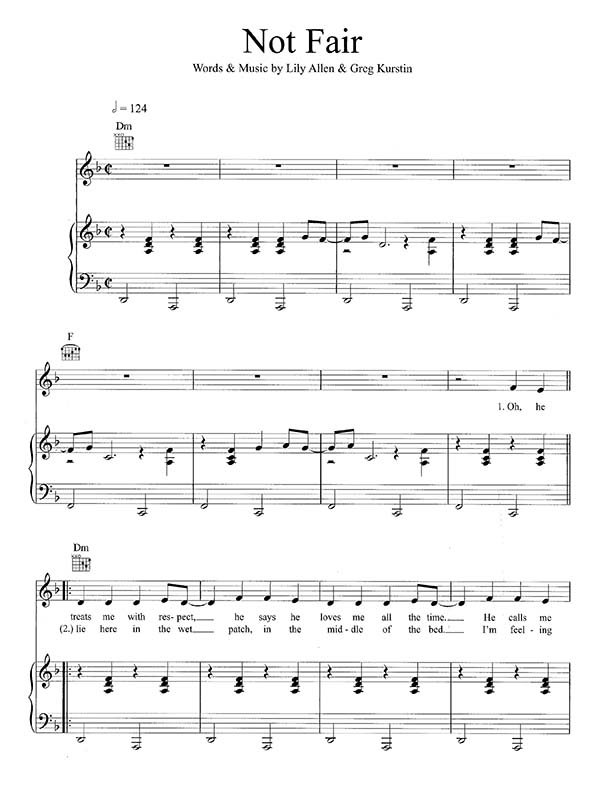 Rarely out of the public eye in a turbulent couple of years, Allen reminds us here that the initial reason that she became famous was as the writer of infectious, witty pop records.
It's Not Me, It's You
The second studio album by Lily Allen. It was released on 4 February 2009. Produced and co-written by Greg Kurstin, with whom Allen had previously worked on her debut studio album, Alright, Still. The album represents a departure from the ska and reggae influences of its predecessor, incorporating electropop with elements of jazz and country.
The album was a commercial success, debuting at number one on the charts in the United Kingdom, Australia and Canada. It was later certified triple platinum by the British Phonographic Industry, and has sold 1,070,340 copies in the UK alone. It was also certified four times platinum by the Australian Recording Industry Association for shipments of over 280,000 copies in Australia. The album has sold over two million copies worldwide.
The album's lead single, "The Fear", also debuted atop the UK Singles Chart, where it remained for four consecutive weeks. Other singles include the UK top-five entry "Not Fair", "Fuck You", "22" and "Who'd Have Known".
The track "Back to the Start" was released as a limited-edition seven-inch vinyl for Record Store Day. Allen performed on a variety of television programs to promote the album, including Jimmy Kimmel Live! and The Ellen DeGeneres Show. She also embarked on her second concert tour, the It's Not Me, It's You World Tour, which visited Europe, North America, Asia, Oceania and South America.